***EDIT*** THE FUGLY FABRIC IS STILL HERE! (Sunday, 13th May 2012)***
6 " squares, fabric: Prince Charming by Tula Pink
Lucy over at

Charm About You

started her

Fugly fabric party

.

Honestly I didn´t even know the word fugly before so I had to look it up. ;-) After doing so I have to insist that the fabric I offer is not fugly.
e.g. I love love love the raindrop fabrics of this line in teal and aqua. That´s why I ordered two or three fat quarters with raindrops together with some other fabrics from overseas.
After I received the parcel (and paid a lot for customs *outch*- I won´t order overseas again very soon) I found out that I accidently got 6 inch squares with all fabrics of this line instead of my fat quarters with raindrops. I didn´t want to send them back because at this time the online shop had run out of the fabrics I had wanted anyways so I decided to keep the raindrops and find some use for the other pieces. Well... I couldn´t. I´m just not the coral and melon kind of person. At all. Seems that I have no use for these colors. They just don´t make me happy. The frogs are funny but kind of creepy, I´ll include them too.
I´ve got a vivid imagination already. I usually see faces and figures in knotholes and tile patterns so I really don´t need fabric that stares at me. ;-)
If you are interested in these pieces I would like to swap this 6 inch bundle of 20 pieces with some teal or aqua quilting fabrics, like an equal amount of scraps (please at least 5x5inches) or a fat quarter.
I have mostly basic fabrics like polka dots, stripes or gingham and I would like to add other fabric patterns to my stash. My fabrics are not prewashed and are from a cat free, non smoking household. I am happy to swap internationally. I am from Austria. Please consider where I stay before you decide to swap with me.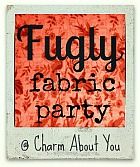 Für meine deutschsprachigen Leser: Ich musste das Wort 'fugly' selbst nachschlagen, es ist Slang und bedeutet wohl soviel wie 'verdammt hässlich'. Ihr seid natürlich auch herzlich eingeladen, mit mir Stoffe zu tauschen, falls die obigen Stückchen für euch nicht verdammt häßlich sind ;-)
Bei der fugly fabric party geht es darum, Stoffe, die einem nicht mehr gefallen oder für die man aus sonstigen Gründen keine Verwendung (mehr) hat, jemandem zu überlassen, dem sie gefallen und der sie brauchen kann. Die Stücke, die ich loswerden möchte, sind 20 Quadrate von etwa 15,5cm Seitenlänge, nicht vorgewaschen und aus einem Katzen- und rauchfreien Haushalt. Ich hätte gerne petrolfarbene oder türkise baumwollene Stoff(stück)e im Austausch dafür. Na? :-)